Incredibly fast, cheap SSD NVMe hosting
Our extremely reliable i efficient web hosting is here to help you and your websites succeed. You can even choose to host on ours Turbo Serversto load pages at speeds up to 10 times greater than competing hosting solutions!
Select the Appropriate Package
Hosting for Free!
until 90 days

Capacity SSD NVMe
on the fastest drives

Websites / Email accounts

Bases MySQL / PostgreSQL
on high-speed NVMe SSD disks
Data transfer
speed 500Mbps
Fastest Website Hosting
HTTP / 2 performance web hosting

Modern solutions!
tools integrated on your server

Protection against attacks DDoS

Autoinstaller 260 applications
Tools WordPress - novelty
securing and optimizing websites
SEO Toolkit - novelty
positioning analysis and optimization
Security Package
Imunify360 Antivirus, WAF, PHP Security Layer
SSL certificates - unlimited
Let's Encrypt for security
RAM (DDR4)
Loads processor
SSD NVMe hosting
Professional business projects
6,00 ZŁ GROSS / Mieś.
price for the year PLN 72

PHP 5.6 - 8.1
Apache from NGINX + OPCache and Memcached

Git, Docker, SEO Toolkit, Python, Perl, Node.js

Personal NVMe SSD Hosting
High performance of websites
12,00 GROSS ZŁ / PLACE
price for the year PLN 144

PHP 5.6 - 8.1
Apache from NGINX + OPCache and Memcached

Git, Docker, SEO Toolkit, Python, Perl, Node.js

Business Hosting SSD NVMe
Professional business projects
20,00 ZŁ GROSS / Mieś.
price after one year PLN 240

PHP 5.6 - 8.1
Apache from NGINX + OPCache and Memcached

Git, Docker, SEO Toolkit, Python, Perl, Node.js

Dedicated help
and attractive price
forever!
Assigned resources
CPU and RAM for the account
Number of websites and mail

Data bases
MySQL / PostgreSQL
No limit of the size of the bases

Annual transfer (1000 Mbit / s)

Anti-DDoS protection against attacks
PHP 8.0 + OPCache + Nginx
Perl, Python, Cgi are also available
Autoinstaller 260 applications

incl. WordPress, PrestaShop, EPESI
Tools WordPress - novelty
securing and optimizing websites
Individual IP address
better positioning and email
Free SSL Certificates - new
(Let's Encrypt) for your domains
Backup manager

daily copy available for download
65 GROSS ZŁ / MONTH.
WITH PAYMENT FOR THE YEAR
4096 MB (4 GB)

100% 3 CPU cores
VIP Business Hosting SSD NVMe
99 GROSS ZŁ / MONTH.
WITH PAYMENT FOR THE YEAR
8192 MB (8 GB)

100% 4 CPU cores
Hosting services
The fastest HOSTING in the 100% on high-speed NVMe SSDs
Our priority is the quality of services. We only use reliable and modern facilities, the fastest SSDs on the market, and daily auto backup.
Hosting on NVMe SSD disks, with technology of unlimited performance for the offered Website Hosting. Our platform for the fastest Website Hosting was created in 2011 based on SSD disks. The creation of the DoSieci.pl service was to meet the market needs by providing the fastest and stable hosting service in modern technology. Providing clients with smooth development of demanding business projects on the Internet. We have created an optimally cheap website hosting using the latest available technologies around the world, working with IT market leaders such as Odin. The goal was to create Cheap Web Hosting with the latest technology available.
In the following years, the main task was to develop our platform to obtain the best possible performance of the full potential of high-speed SSD servers. We have introduced special configurations on all DoSieci servers ensuring the most efficient work of our Hosting services. So that all free server resources are used for the hosting accounts on the server. Thus, it accelerated the SEO development of many of our clients' projects. Today's DoSnet SSD Hosting is the fastest hosting on the market at a good price. We provide the highest possible quality of the Hosting service, while offering convenient and easy and mobile management of Website Hosting. We are distinguished by an experienced team of the best specialists of comprehensive assistance for each client of our company.
We offer Hosting Plans selected on the basis of two basic server resources or the popularity of websites on the web. Hosting, which, combined with modern software and effective protection against malicious attacks in the network, has successfully ensured stable development of the largest business projects for our clients for years.
Comprehensive customer service is the greatest asset of our team of DoSieci specialists. We contribute to the development of online business, as well as making it as easy as possible to run it.
Performance and reliability
Hosting on SSD drives allows you to process over 40,000 requests per second, which guarantees immediate service inquiries and very quick access. Such website hosting brings many benefits that are most noticeable when using the server function and website positioning.
Generation and display time websites on SSD's Hosting much faster and allows for handling more users. This advantage is appreciated by the owners of online stores and all customer-centric companies for whom fast and stable website represents a significant competitive advantage.
Characteristics
Get all these benefits with us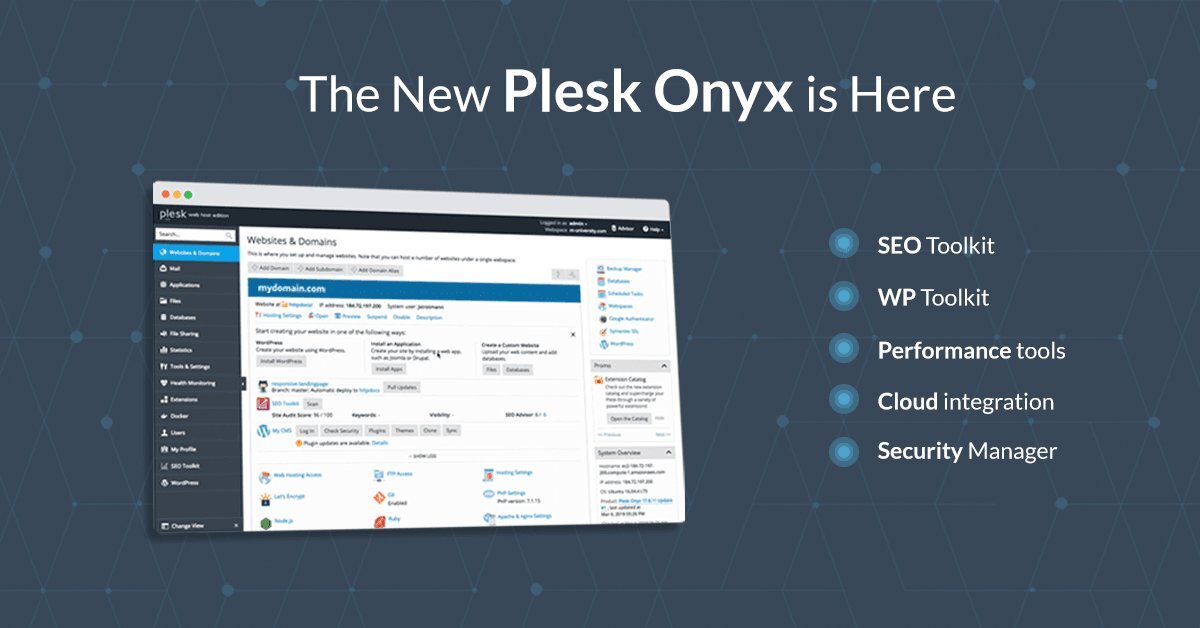 Plesk Onyx Management Panel
Plesk Onyx Account Management Software Hosting is a simple, fast and intuitive way to independently maintain your website, email accounts and web applications. We offer the possibility of using a modern SSD Hosting platform provided by DoSieci.pl
The panel is also great for mobile devices. You can fully manage your Plesk services with your phone. The system works fully on mobile devices.

NGINX Server
NGINX accelerates the generation of content and applications, increases security, facilitates accessibility and scalability for the most popular websites on the Internet.
Why DoSieci.pl SSD Hosting?
SSD hosting 
recommended for
Perfect Hosting for Everyone!