Specialized Hosting tariffs for WordPress
StartUp
WordPress SSD Hosting
The Perfect Start of Young Sites
48 PLN GROSS / YEAR.
STABLE PRICE!
- many WordPress sites
- 5GB Space
- Any number of Email accounts
- Will handle ~ 10,000 views per month-


- SSL certificates free
PERSONAL
WordPress SSD Hosting
for Private Projects and Developers
96 GROSS ZŁ / YEAR.

STABLE PRICE!

- Multiple Pages WordPress
- 10GB Space
- Any number of Email accounts
- Will handle ~ 25,000 views per month
- SSL certificates free
- Special WordPress tools
BUSINESS
WordPress SSD Hosting
Business projects and Demanding websites
180 PLN GROSS / YEAR.

STABLE PRICE!

- Multiple Pages Internet
- 30GB Space
- Any number of Email accounts
- Will handle ~ 100,000 views per month-
-
- SSL certificates free
- Special WordPress tools
WordPress SSD Hosting
Automated WordPress Hosting
WordPress has a huge number of free templates at your disposal. CMS WordPress as the most popular content management system offers unlimited editing of the website. In addition, WordPress hosting on high-speed SSD disks is the perfect place for a professional website or blog. By using our offer, you can quickly and easily set up a blog or website with a few clicks, use the knowledge and technical support of WordPress Hosting specialists without restrictions.
Thanks to the latest technology of our WordPress Hosting SSD service, your data will be transferred faster and the page loading time will be reduced to a minimum.
Special hosting for WordPress!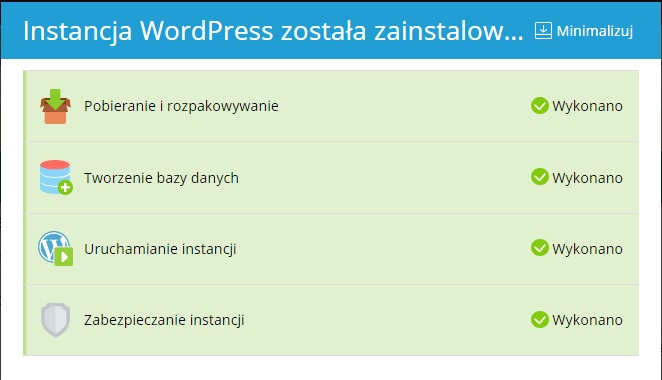 Fast WordPress SSD Hosting
In order to create your own project, you do not need any technical skills and knowledge of programming languages - the system interface is simple and intuitive.
Flexible architecture, catalog of free add-ons and a large number of templates. WordPress keeps getting better thanks to tens of thousands of developers around the world who contribute to the reliability and quality of this system.
Choose the Best WordPress Hosting
Every hosting company claims to offer the best WordPress hosting, but doesn't really deliver much. After a long period of intense research and development, our engineers have designed a revolutionary service that is perfectly optimized for hosting WordPress-based websites and blogs. It is very important to understand that most hosting plans are compatible with WordPress, but not all of them are the best hosting for WordPress.
What makes our plans the best WordPress hosting plans? The key word is optimization. We have set up our servers in a special way that makes WordPress sites run faster. We provide lots of tools and plugins to make your hosting an unforgettable experience. We truly believe it's the best WordPress hosting service ever made.
Each content management system (CMS), such as WordPress, Joomla or Drupal, has its own way of working. This means that if you do not optimize your hosting for the specific CMS you are using, it will perform suboptimally, in other words, it will be slower and less efficient. Failure to optimize will result in a poorer user experience, loss of visitors, and a general feeling of dissatisfaction with your hosting.
Optimizing your hosting as much as we do is very difficult, if not impossible, unless you own the entire server and have a team of seasoned IT experts at your disposal, but the good news is you don't have to. We've already done this in the best possible way and built the best WordPress hosting as well as specialized hosting plans for other systems like Joomla, Drupal, and Weebly.
Check your security
WordPress instance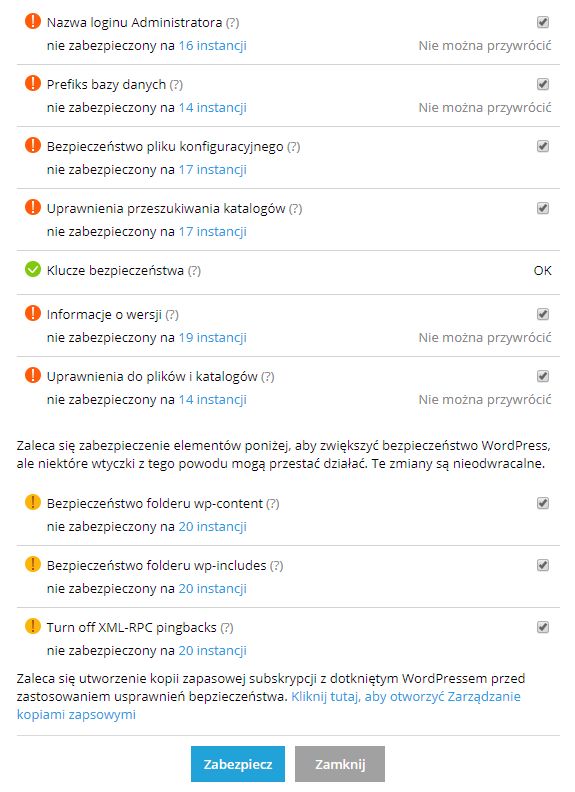 We provide the highest quality WordPress hosting with solid security. By using our services, you will increase stability and save costs of maintaining WordPress websites.
Did you know about this….
Almost 75 million websites in the world are based on WordPress?
WordPress has over 29,000 plugins available, is this number growing every day?
Every 4th website is based on WordPress, is it the largest content management system in the world?
WordPress is the fastest growing web application - at over 100% per year?
Over 70% from current websites are not using CMS at the moment, but a lot of them are moving to WordPress?
Choose a comprehensive solution

"WordPress Hosting SSD"
Want to start a WordPress blog? 
A reliable hosting provider is essential to ensuring the performance, security, and availability of your WordPress site. Specialized WordPress hosts offer the best possible conditions for a CMS on these points. If you want to play technically safe for backups or regular updates, these tasks can also be transferred to your web host. The performance, security and accessibility of the website are in professional hands, and specialized WordPress support is available in case of difficulties.
The price of WordPress hosting varies depending on the scope of services offered. Tariff packages are often structured according to the capacity or number of WordPress pages hosted and have different functions. Individual tariffs for WordPress hosting start from PLN 4 gross per month for small websites up to 5 GB. Support performance differences often matter to business people. In addition to fixed tariffs, individual pricing models are also possible.
When looking for a good WordPress hosting provider, two points are especially important: the scope of the services provided and their availability. Compare individual vendors yourself and check the reviews on the web. A good supplier will be happy to answer any of your questions and can also submit individual offers. Testimonials from previous customers are also a good indication as to whether the WordPress hosting provider is trustworthy. We have been present on the market for several years, but our team consists of people who have been building the IT industry for over 12 years. WordPress hosting, website domain support, website development, service administration are our everyday activities.
First, the website is transferred to the hosting provider's servers or configured directly there. The WordPress hosting provider provides the necessary web space as well as all other resources needed for the website to run. This hardware and software infrastructure is properly coordinated and configured so that the website is always available at the correct URL. Managed WordPress hosting providers also offer support, updates and backups of your WordPress site to varying degrees.
Thanks to DoSieci.pl, porting WordPress to our servers is always included. Our experts ensure that your website is transferred to our server safely and is always available. As part of the relocation, we also check whether performance optimizations are necessary and carry them out in consultation with you. For you, WordPress traffic is uncomplicated and completely stress-free.
The security of your website is extremely important to us. Each package contains an SSL certificate for encrypted data transfer between our server and your website visitors. Your WordPress site is checked daily for malware with a malware scan. Moreover, every night a backup of the current state of the site including all files and databases is backed up, which is then available and can be restored with one click.
Would you like to take advantage of the special advantages of our WordPress hosting even though you already have a website from another provider? No problem. We make it easy for you: you can initiate migration to DoSieci.pl with one click. Then everything works by itself or just let us know and we will take care of everything for you.
Managed WordPress hosting offers so many possibilities that there are practically no limits to your ideas. From a simple info page to an extremely extensive page / menu structure with lots of images, videos and dialog features, you can do practically anything with WordPress. For example, a blog, a special landing page or an online magazine. Are you planning a commercial online store that you would like to constantly develop? Then you should choose one of our WordPress ecommerce packages that are specially made for online trading. And if you are a developer, designer, or other online professional looking to create and maintain multiple websites with one WordPress suite, choose one of our WordPress business packages.
These packages are the perfect solution for creating and effectively maintaining a comprehensive, professional website - without the need for programming knowledge. Do you want this WordPress site to do its job reliably and efficiently without having to worry about technology and regular updates? So you are right here. WordPress is the world's most widespread content management system and offers the right solution for virtually any online purpose thanks to its basic concept and thousands of additional plugins that can be installed
WordPress is the most popular website content management system in the world - more than 1 in 3 websites use it. WordPress is for everyone - bloggers, small and large businesses, developers and individuals. Platform features have over 43,000 readily available plugins and themes and are highly customizable.
You can build a website, blog, online store, or a combination of them!